Synopsis
In Extreme Challenge each episode recounts the adventures of Calleja: his ascent to the highest mountains, Elbrus in Europe, Kilimanjaro, in Africa, McKinley, North America, Aconcagua in South America, Vinson in Antarctica, Carstensz Pyramid, Oceania, and Everest in Asia.
In addition, the Extreme Challenge includes the climb to another peak of over 8,000 meters, the Lhotse, the fourth highest mountain in the world.
Jesús Calleja is an atypical elite athlete, he dares to climb the highest mountains in the world and to compete on a motorbike by the driest deserts and isolated. It is a strange combination because they are very different sports. And both very risky. In fact, this year is broken into eleven pieces and shoulder fractures of the wrist in a serious motorcycle accident, training in the dunes of Morocco, injuries have taken him four times the operating room.
Technical data
Seasons

7

Episodes

60

Duration

50'

Year

2010

Language

Spanish

Aspect ratio

16:9

Format

SD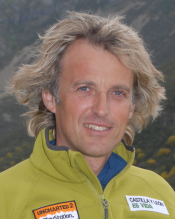 Jesús Calleja