Synopsis
Docurreality which shows the life of the most punkish chef, Dabiz Muñoz, who owns three Michelin Stars. Discover a new side of culinary delights, a "cyber-retro-futuristic" style, very daring and different from the conventional. Cameras infiltrate between the ins and outs of Dabiz's life and he show us how has he overcome himself to get where he is now, at the top.
In addition to StreetXO, the chef is also the owner of the famous DiverXO restaurant, which is also shown in the documentary, although the protagonist is Dabiz himself. The documentary offers statements by the chef himself and infiltrates in the day-to-day of the restaurant and his workers.
In The Xef, Dabiz talks freely about his projects and what he wants to achieve, he talks about his dreams. In addition, the chef brings the secrets of the most futuristic and modern cuisine to the audience.
Technical data
Seasons

2

Episodes

9

Duration

60'

Year

2017

Language

Spanish

Aspect ratio

16:9

Format

HD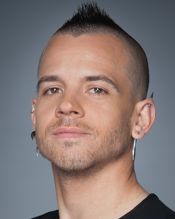 Dabiz Muñoz